Alright guys, confession: you may have noticed I mysteriously skipped making March goals. Well there's no mystery... I simply sucked at my February goals, whatever they were, and I was too lazy to make March ones. What a bad attitude! So anyways I'm starting fresh because there are things that have to change! I am hovering around my highest weight ever, which sucks big time, especially since we have 4 weddings to go to in the next 5 months, as well as it being bathing suit and shorts season very soon (at least, I hope.. I think they're calling for snow AGAIN on Saturday so spring and summer may actually never come). Also, our spending and budget definitely need to get under control or else we will be out on the streets instead of in our brand new house come May 30th, so April goals, I am going to kick your butt!
Goal # 1
:
Get up at 7am every weekday and do the 30 Day Shred or 30 minutes on my bike before work, and go on 2 mile or longer walks per week.
This is totally doable, I used to do it in law school and I would have more energy for the day when I exercised in the morning. Plus I feel super accomplished working out in the morning.
Goal # 2
:
Stick somewhat to a calorie goal
. I am not going to be unrealistic about this because recording every last thing I eat is a pain in the butt, so I may not record everything I eat every day, but I know damn well how many calories are in things and I know what I need to eat to keep it under control.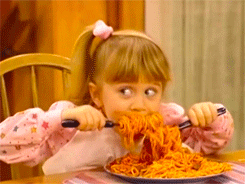 Goal # 3
:
Follow the budget that Brian made
. No extra purchases. Stick to the list of necessities we need to buy before we move into our house. No more maxi dresses and Easter decorations just for the heck of it.
As you can see I didn't set a weight goal for myself, though losing weight is something I definitely want and need to do. If I stick to the first 2 goals, then losing weight should happen, I'm just not going to put a number on it. What are your goals for April? P.S. Happy April Fools Day! I hope you did something tricky to someone today, and if not, what are you waiting for?!