So I need to talk about something pretty important today. I have mentioned it on twitter in the past, but I think it's time to put it all out there and finally get it off my chest. Whew, okay, here goes... sometimes.. I get, well, there's no better way to say it... sometimes I get..
hangry.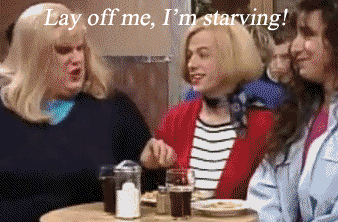 Yup, I'm ashamed to admit that I suffer from hanger. And by sometimes I mean almost daily.
Urban dictionary
defines hangry as follows:
When you are so hungry that your lack of food causes you to become angry, frustrated or both.
An amalgum of hungry and angry invented to describe that feeling when you get when you are out at a restaurant and have been waiting over an hour to get the meal that you have ordered.
"Damn! Where is that steak I ordered? We've been waiting for an hour and a half here. The service here is terrible! I'm starving! I don't know about you, but I'm starting to feel really hangry!"
And yes, I seriously get angry when I'm hungry. Brian has learned to pick up on my symptoms over the years, but there's really nothing he can do to get rid of my hanger except GIVE ME FOOD. If we are at a restaurant and we've been sitting there for 5 minutes and our server has never come over to us yet, I GET MAD (I used to be a server so I
know
). I start getting super b*itchy and snarky and he literally can see my blood start boiling and my temperature rising and *
woop there it is
* the hanger has emerged. As soon as the food comes out and I have about 3 bites worth, the hanger subsides and all is right with the world again.
Do you or someone you know suffer from hanger? Do you want to start a support group with me? Maybe we should get our blood sugar tested...