I love reading people's posts about what's in their purse, makeup bag, etc., so I figured I'd share mine (I did this type of post awhile ago but things have changed since then). I don't usually carry a "makeup bag" per se, only when we go away (though I do have a travel mascara, a blush, and some powder in my purse for emergencies- maybe I'll do a purse post one day), but the title "What's In My Makeup Bag" sounded better than "What's Scattered All Over My Vanity" haha! Anyways, let's get down to business.
I change up makeup a lot, but this is what I currently use and like the most.
Tarte Gifted Amazonian Clay Smart Mascara
- I actually used to use this back in law school and I recently found it again when Tarte was having their 30% off sale. They had a gift pack of 3 mascaras for $35, but with their 30% I got all three for only $24.50! I mean, wow, that's as cheap as drug store mascara. Anyways, I really like this stuff. It doesn't irritate my eyes and it definitely makes my eyelashes look longer!
Rimmel London ScandalEyes Waterproof Kohl Liner
- I use just the black shade of this. I think I first got it in an ipsy bag or from Influenster, I can't remember, but either way I have actually purchased it like 5 times since. I like that it's creamy for a pencil, but it isn't messy and it doesn't irritate my eyes like a lot of eyeliners do.
Tarte Maracuja Creaseless Concealer
- I just bought this and I use the fairly light neutral shade of this, which is the second lightest they make. It's pretty thick and I usually apply it (just a teeeeeeny bit) to my undereyes with my
Real Techniques concealer brush
and then smooth it in with my fingertips and then cover it with powder. Both the concealer and the brush aren't my favorite things in the world, but I've really never found one of either that I've bought more than once.
Got any suggestions?
Maybelline Fit Me Matte and Poreless Foundation
- I've talked about this stuff
before
, and I still love it. I use liquid foundation in the fall and winter because it works better for my dry skin, and this is the best. I've used so many liquid foundations and I haven't found one that blends better and covers as well without looking caked on as this. Plus there are tons of shades to pick from. The packaging kind of sucks, but it can definitely be overlooked.
Mary Kay Liquid Foundation Brush
- I like to use this brush to apply the Fit Me Foundation, and it works really well. The bristles are super soft and it was only $10.
BareMinerals Matte Foundation and Mineral Veil
- I've used BareMinerals powder foundations for like 8 years and they have never let me down. I sometimes use the foundation over my liquid foundation, or I use it on its own in the summer. I almost always use the Mineral Veil over liquid foundation. The stuff lasts forever, and I like both the loose powder and
packed powder version
of both the foundation and mineral veils, I have multiple of both.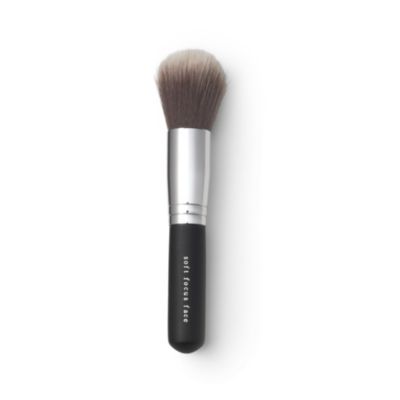 Tarte Showstopper Clay Palette
- Obviously I took major advantage of the Tarte sale because I also bought this. Normally $40, I only paid $28! This palette has 6 pretty eyeshadows, which is more than enough for me because I don't vary my eyeshadow that often and I don't do any crazy shades. It also has blush, bronzer, and highlighter. I don't like the highligher very much, I think it is much too white. I have lots of other bronzers and blushes, but now I use these most of the time because it's so easy to just grab this palette. I hardly have to use any because the colors are super pigmented, and I really love the shade of the blush, I usually go more pink-y but this is more peach and it is pretty.
Luxie Rose Gold Large Angled Face Brush
- I got this in an Ipsy bag and use it to put on my bronzer, highlighter, and blush and I really like it. This brush is a little bigger and doesn't fit as well in my makeup bag, so when I travel I usually take my BareMinerals Soft Sweep Cheek Brush (which they don't sell anymore). Plus the BareMinerals brush is better for lighter application, while this Luxie brush is better for heavier.
Crown Brush Deluxe Infinity Shadow/Crease Duet
- I got this in an Ipsy bag and it's my favorite eyeshadow brush. I use it for everything except goopier (probably not a word) eyeshadows- for those I use a cheap ELF brush.
So obviously there are definitely a few brands I prefer. I would do a skincare regimen post, except mine is all products from the dermatologist because I have sensitive, problem skin. I do use
CeraVe Eye Repair Cream
on my eyes though and I really like it because it is cheap and it works.