I hope everyone had a great three day weekend! We were supposed to go to the lake but we had to stay home because of sickie me. I did order a bunch of candles from Bath and Body Works this weekend so that was good at least!
So honestly I've been a pretty awful book reader lately. I normally read so much and finish like 1-2 books a week, but I've been in a slump this summer. I think it's because of all my allergy headaches; it's uncomfortable to read when your head is pounding. Anyways, if you want to check out the books I've been reading over the past 6 months-ish, check out my
Instagram
because that's where I'd been posting all my book reviews before I came back to blogging.
Here are the 2 books I read in the past month or so since I last posted a review on Instagram.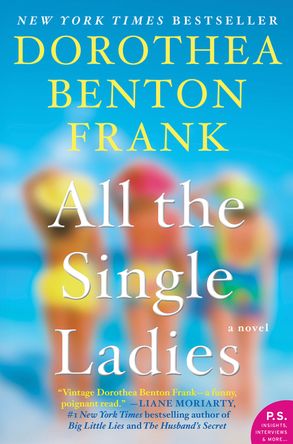 4.5 stars
From the publisher's website
:
In this fast-paced and evocative novel, beloved

New York Times

bestselling author Dorothea Benton Frank again takes us deep into the Lowcountry of South Carolina, where three unsuspecting women are brought together by tragedy and mystery
Lisa St. Clair knows a thing or two about weathering storms. A dedicated nurse with a healthy sense of humor, she single-handedly raised her truculent daughter, Marianne, after her ex walked out on them twenty-four years ago, sending them a lottery ticket once a year as support. One day he reappeared and lured their daughter into a dubious but lucrative venture in Colorado. Now mother and daughter aren't speaking.
So when Kathy Harper, Lisa's favorite patient, loses her battle with cancer, Lisa finds herself drawing closer to Carrie and Suzanne, the devoted friends who were always by Kathy's side. As these three women's lives inevitably connect, they share their concerns about men, getting older and the horrors of maintaining financial stability. Suzanne's ninety-nine-year-old grandmother, a former chanteuse, offers unexpected perspectives on the mores of the day. Carrie's greedy ex-stepchildren are a chorus of cackling crows. And Lisa's mother just can't help herself as she henpecks her to distraction.
Somehow their conversations always return to the enigma of Kathy. Who was she? What did her short life mean?
Lisa, Carrie, and Suzanne power walk the beaches of the Isle of Palms with Pickle, Lisa's adorable Westie. Gradually they uncover the truth of Kathy's life and unfurl plans to secure their own futures, as fate steps in to help them discover that being single doesn't have to mean being alone. Dorothea Benton Frank shows us that friendship is as powerful as the turning tide and that love is about more than just finding the right person. You'll fall under the magical spell of the Lowcountry and of all the single ladies who have a whole lot of living to do.
What I thought
: This book was adorable. It ended so neatly, which I loved, and it was just a cute, easy read all around. Nothing earth-shattering or award winning, but I really liked it and recommend it.
4.5 stars
2 stars
Quentin Jacobsen has spent a lifetime loving the magnificently adventurous Margo Roth Spiegelman from afar. So when she cracks open a window and climbs back into his life–dressed like a ninja and summoning him for an ingenious campaign of revenge–he follows.
After their all-nighter ends and a new day breaks, Q arrives at school to discover that Margo, always an enigma, has now become a mystery. But Q soon learns that there are clues–and they're for him. Urged down a disconnected path, the closer he gets, the less Q sees of the girl he thought he knew.
What I thought: Apparently this is a movie now? Didn't realize that. I did not like this book. I kept reading until the end, but it was weird. Weird weird weird. I couldn't relate to the characters at all, couldn't understand why they'd all sacrifice major things like walking at graduation for a selfish girl. Just strange and unrealistic in my opinion, and none of the parents in the book were like any parents I have ever met in my life. Disappointing. 2 stars, only because it did somewhat keep my attention.
What have you read this month? Anything good I should try next? I have a few on my bookshelf in Overdrive that I have to quick read in the next week before they expire, wish me luck!