Okay so obviously I am pretty much done with all the
wedding planning
, but I still have some questions left and maybe some are weird but hey, it's only weird if you don't ask right? Some of these are about the ceremony because if you read my wedding planning post, you probably noticed I didn't talk much about the ceremony and that is precisely because we really haven't planned it yet. But don't worry, we still have two meetings with our pastor before the wedding.
ONE
. So I've always pictured myself standing on the right side at the ceremony. I know I know, that's not typical and every wedding I've been to has the bride on the left and the groom on the right, but is it WEIRD? Like will everyone laugh and point if I stand on the right? Should I suck it up and stand on the left even though that's not how I've always pictured it? Help!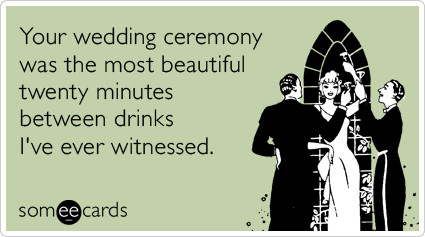 TWO
. What's the right length for a ceremony? We've been to some that lasted 5 minutes and some that lasted an hour, and all types in between. We were thinking between 15-20 minutes for ours. We aren't doing a unity candles/sand ceremony or anything like that, but we wanted to write our own vows. Nothing too lengthy (mine are like 6 lines long and mention Lorelai and Luke... IS THAT WEIRD?!), and I think I still want to do the traditional vows.
THREE
. We aren't doing a bouquet or garter toss. What do you think of that? If you were a guest would you even notice? I don't think it is weird, and in fact, I hate the whole bouquet toss thing. I'm not going to change my mind about not having it, but I just want to know your thoughts.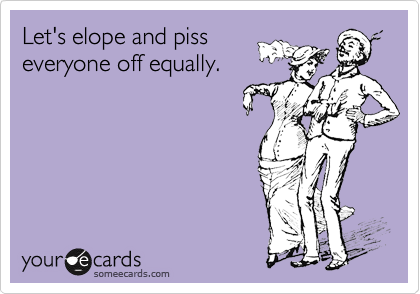 FOUR
. We aren't having kids at the wedding. We made it clear well in advance that kids are not invited, and it became a huge "thing" and caused some major arguments. I know we did it the correct way and that it is
extremely
common not to have kids at the wedding, but with the backlash we got, you'd think we didn't invite MEN or something. Did you have kids at your wedding? Did people flip out if you didn't? I don't feel bad about not inviting kids, but I just can't believe how people reacted.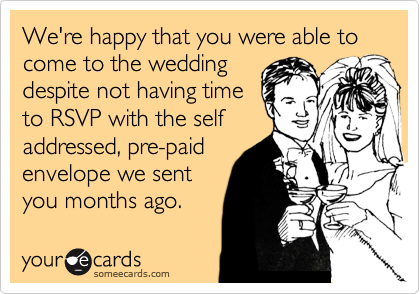 It's almost as if I wrote this one myself (I didn't)
FIVE
. Am I wrong to be annoyed that people couldn't find the time to send their RSVPs back? It's not like it's just a few people either, it was like 26 our of 64 RSVP cards we haven't received at this point, and they're due this week (and we sent them out a month and a half ago!). We started contacting people this weekend and most people didn't even have it on their minds to send them back. We've had people say that they didn't have any stamps (umm it's pre-addressed and PRE-STAMPED!) and the whole gamut of excuses, plus people who didn't even respond to our text messages when we inquired.
Most people already knew if they are coming or not, as we sent Save-the-Dates out in January, and a ton of people already booked hotel rooms, but we need to know numbers and our venue also requires that we give a food choice count, so we need to know what our guests want to eat. I definitely don't think people are being intentional or malicious at all with not returning them, I just think most people assume we know they're coming or just completely forgot, but still. Am I being completely oversensitive here?
Sorry for that last rant, but I swear, that has been the worst part of wedding planning. Any advice or opinions you want to give me, please, lay it on me! I can take it, be honest, thanks!!