I love New Girl and have been incessantly watching it lately. I've already watched the whole series like 4 times but I can't help from watching it all over again. I can't wait for the new season in January!
Oh and speaking of New Girl, the only thing that bothers me is that Nick supposedly passes the bar exam even though he only went to three semesters of law school, so that means he only finished half of law school. You cannot take the bar exam without a law degree, so yea, he couldn't have passed the test because he wouldn't have been allowed to take it. Rant over. Passing the bar exam wasn't a cake walk.
On another note, I am having trouble getting into the Christmas spirit. We put up all of our decorations (minus the tree and lights) Thanksgiving weekend, and Brian put up our outdoor lights last night (I really wanted 3 of those star shower laser light things but they are sold out everywhere, GRRRR!). I've watched every single Christmas movie, and like 15 Hallmark Christmas movies (this post makes me seem like all I do is watch TV hahaha), plus I did all my shopping, and I still can't get in the spirit! I've even been reading Christmas books!
I think it's partly because the Northeast has had a super warm start to winter because of el nino, and the high temps have been in the freaking high 40s to low 50s! That is way too warm for me to get in the Christmas spirit, Did I mention it HASN'T EVEN SNOWED YET?! I feel like I live in Florida or something! Maybe getting our Christmas tree today will help with the Christmas spirit...
I also think I'm having trouble getting in the spirit because I've been pretty sicky lately, and I also have to get my third surgery in a year in a half just 3 days before Christmas! Yup, I'm getting ankle reconstruction surgery with bone/tissue grafts and the works, so I will be hopped up on painkillers and wearing a hard cast up to my knee on Christmas morning (actually for 6 weeks).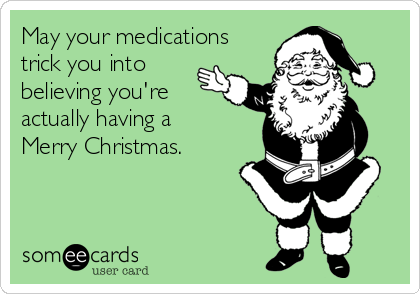 So that's fun... keep your fingers crossed it will be successful and not super painful and that when it's all said and done I'll be able to walk and exercise normally again and lose some weight! Hey, at least I get to use one of these... no, I'm not kidding.
Well that was a Debbie Downer post, but don't worry, I have some lovely wedding reception pictures for you on Wednesday!